Volunteers renovate East Tenn. veteran's home | News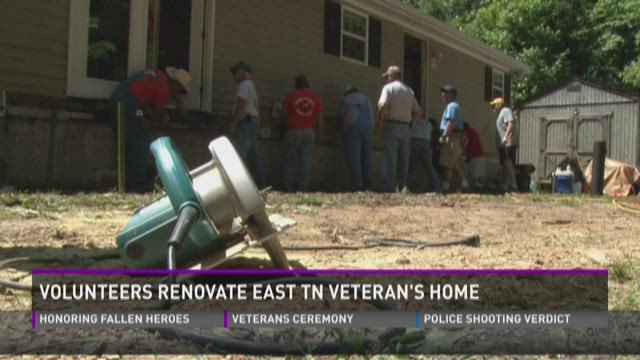 (WBIR- Union County) Volunteers from several states gathered in Union County this weekend to renovate a veteran's home after he had his leg amputated.
Retired Staff Sergeant Jimmy Dyer had been dealing with severe pain in his leg for the past 10 years caused by an IED detonation in Iraq. Doctors tried to save his leg with more than 20 surgeries since 2005, but after an infection was found recently, Dyer decided to have his leg amputated to end the pain.
The surgery took place earlier this week but his home is not wheelchair accessible, something that he'll need during his recovery process.
"He's doing fantastic," Andrea Dyer, his wife, said. "He's doing really good. His spirits are really high. He's in a little bit of pain, you know, because of the surgery, but he's doing great."
When Dyer is released from the hospital, he will return to a home with new wood floors instead of carpet, widened doorways, and wheelchair ramps.
Shawna Buice served with Dyer at Fort Riley in Kansas. When she heard that Dyer decided to move forward with the amputation, she took it on as her duty to get supplies donated and organize volunteers to help an old friend.
"You have each other's back," Buice said. "It don't matter if it's war time or not, whether you're active or not active. It doesn't matter what war you served in, what branch you served in, we have each other's back."
Dyer's wife said these renovations will allow him to have a better life than he had before and live it free from pain.
"He may get a little teary-eyed," she said. "He don't do that too often, but when someone does something like this for him... it's appreciated that's for sure."